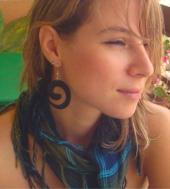 about anna...
A music that combines her Greek sea-faring roots, with modern European movements, but above all with a distinct Greek sound. In this way her simple Doric melodies and her Byzantine, traditional influences draw pictures of the Mediterranean as they are being formed in every listener's mind.

Born in Athens, Greece, Anna Stereopoulou embarked on her music studies at the age of six. Furthermore, she gained her BMUS Honours degree (Piano) at the LONDON COLLEGE OF MUSIC & MEDIA and in July 2003 she graduated from TRINITY COLLEGE OF MUSIC after studying for her Postgraduate Advanced Diploma in Composition. During that academic year and after being accepted for a scholarship at TCM, she chose to specialize in the field of Music Composition for Film and TV and has also taken on the task of organizing and overseeing Audio-Visual /Multi-Media concerts

Therefore, her experience in collaborating with artists from around the world and from various arts has given to her the opportunity to create a multicultural character and artistic passion. Her basic aim being to combine and unify Music with the other Arts -such as the Theatre, Cinema, Poetry, Dance and Architecture- but also to draw inspiration from philosophical and scientific subjects, on which she bases her music; In other words ...a STEREOSCOPIC perspective of Music & Art. ©
discography...
teachers & mentors...
Piano

Raphael Terroni
(Pianist of the Royal Court/Head of Keyboard
at London College of Music)

Alberto Portugheis
(Piano Masterclasses) - Argentina

Piers Lane
(Piano Masterclasses)



Improvisation

Lisa Nelsen - Canada


Composition

John A. Thomas
(Composition/Film Music)

Andrew Poppy
(Composition/Film Music & Minimalism)
Head of Screen Music, National Film & TV School

Cecilia McDowell
(Composition)

Adam Gorb
(Composition/Contemporary)
Head of Composition at Royal Northern College of Music

Stephen Montague
(Composition)



Other

Philip Mead
(Contemporary Piano/Studies)



Mentor

George Mowat Brown